iPad Art Course: Character Design
with Nikolai Lockertsen
Nikolai teaches you the secrets of fantastic character design using Procreate on the iPad. From rough sketch to final detail, he reveals his process step-by-step, creating several characters using different approaches and techniques. Sign up and start today!
| | | |
| --- | --- | --- |
| Level: | Length: | Language: |
| | | |
| Intermediate | 01:00:35 | English |
Nikko takes you on an amazing, creative journey with your iPad as your new sketchbook. He guides you step-by-step, revealing how to get the most out of this inspiring new method of creating art.
Note: This course is structured for students with an intermediate knowledge of Procreate. A basic understanding of the interface and tools is necessary.
Building on from the basics, Nikko takes you through the course step-by-step in an easily accessible and understandable way. Bringing characters to life on the page is about more than just being able to draw. You will learn how to breathe life in to your character using a variety of techniques that has led Nikko to being a highly sought-after Concept Artist for movies, games, and TV.
He shows you tips and tricks for making characters that will jump off of the page and in to your next big creative project!
Highlights from the course include:
The complete process from rough sketch to final detail
Creating several characters using different style and approach for each
Handy tricks to get the most from Procreate's powerful tools
Layer modes, Transform tool, Adjustment Curves, and more!
Sign up now and get immediate access!
01. Introduction 01:00
02. Starting "Character 1" with a rough sketch outline technique. 05:56 (Log in to watch this chapter for free.)
03. Refining "Character 1" by adding colour, light, shade and details. 19:18
04. Defining "Character 2" outlines using an inked comic book look. 09:10
05. Adding colours and tones to "Character 2" and adjusting with the Curves tool. 10:26
06. Starting "Character 3" with a strong silhouette and adding basic lighting on top. 08:07
07. Adding details over the "Character 3" silhouette using different layer techniques. 06:37
Total course time: 01:00:35 hours
Once the course is purchased, you will be able to download the original, full-size, finished artwork here.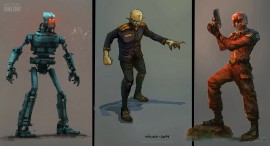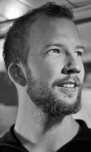 This course is held by one of the world's leading Art Directors – Nikolai Lockertsen.
Nikolai works as an Art director, Concept Artist and Matte Painter in the movie and TV industry. He has an impressive career behind him, having worked on such movies as "Troll Hunter", Oscar-nominated "Kon Tiki", "Max Manus" and "The Mortal Instruments", to name but a few.
He regularly works with Hollywood Director Harald Zwart and continues to develop his art to stunning new levels. He is often travelling between movie locations and international film studios, and his iPad always travels with him.
In this video from Savage Interactive (the makers of Procreate), he talks about why he enjoys using Procreate for iPad so much:
Here is the list of items you will need:
iPad 2 or newer
Touch-screen pen for the iPad, (pressure sensitivity optional)
Once the course is purchased, you will be able to download the original, full-size, finished artwork here.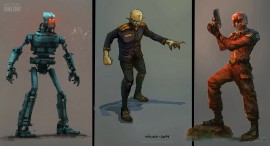 iPad Art Course: Character Design
With Nikolai Lockertsen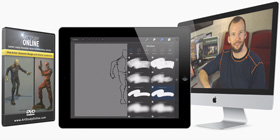 All payments are handled through a secure connection. We store no card details on our site.
Please LOG IN (or SIGN UP for free) before you purchase a course!
---
Buy the STREAM - only $9.97Unlimited online access to this course.
---
Buy the DVD - only $39.99Receive the course on DVD. (Price includes shipping & handling)
---
DVD & STREAM - only $39.99LIMITED OFFER! Receive the course on DVD, plus unlimited online access to this course. (Price includes shipping & handling)
---

iPad inspires creativity and hands-on learning with features you won't find in any other educational tool.