iPad Art Course: Mastering Perspective
with Nikolai Lockertsen
Nikolai Lockertsen is a master of perspective. In this course he explains in detail how to use it successfully. Nikko introduces Procreate's incredibly powerful Perspective tool, and shows practical examples of how it can be used.
| | | |
| --- | --- | --- |
| Level: | Length: | Language: |
| | | |
| Beginner | 0:49:59 | English |
Nikko takes you on an inspiring, creative journey with the iPad as your sketchbook. He guides you step-by-step, revealing how to get the most out of this powerful new art tool.
Note: This course is structured for students with a basic knowledge of Procreate. An understanding of the interface and tools is recommended.
Starting with a blank canvas, Nikko creates perspective guide lines using Procreate's in-built tools and then shows how to use them in real world examples. 1-point, 2-point and 3-point perspective examples are explained through multiple sketches. Nikko completes the course by building up a complete concept sketch of a farmhouse using the techniques introduced through this course.
He also reveals tips and tricks that you can use to get more out of your artwork.
Highlights from the course include:
Multiple practical examples of how perspective works
Tool tips and techniques you can use immediately in your own artwork
Exclusive downloadable brushes created by Nikko for this course
Sign up now and get immediate access!
01. Introduction. 01:10
02. Using the perspective guide tool, and 1-point perspective. 04:23 (Log in to watch this chapter for free.)
03. An introduction to using 2-point perspective. 04:09
04. Using the more dynamic 3-point perspective. 09:36
05. How to deal with a horizon line outside the canvas. 09:23
06. Tips and tricks for displaying the perspective lines differently. 06:28
07. Creating a farmhouse concept sketch from guidelines to completed image. 14:49
Total course time: 0:49:59 hours
Course downloads become automatically available once the course is purchased.
Exclusive to this course are the brushes Nikko created and used. You will be able to import them to Procreate from your iPad here: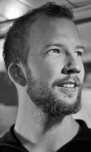 This course is held by one of the world's leading iPad Artists – Nikolai Lockertsen.
Nikolai works as an Art director, Concept Artist and Matte Painter in the movie and TV industry. He has an impressive career behind him, having worked on such movies as "Troll Hunter", Oscar-nominated "Kon Tiki", "Max Manus" and "The Mortal Instruments", to name but a few.
He regularly works with Hollywood Director Harald Zwart and continues to develop his art to stunning new levels. He is often travelling between movie locations and international film studios, and his iPad always travels with him.
In this video from Savage Interactive (the makers of Procreate), he talks about why he enjoys using Procreate for iPad so much:
Here is the list of items you will need:
iPad 2 or newer
The Perspective Guide tool (in-app purchase)
Touch-screen pen for the iPad, (pressure sensitivity optional)
iPad Art Course: Mastering Perspective
With Nikolai Lockertsen

All payments are handled through a secure connection. We store no card details on our site.
Please LOG IN (or SIGN UP for free) before you purchase a course!
---
Buy STREAM - only $14.97Unlimited online access to this course.
---
Buy DVD - only $39.99Receive the course on DVD. (Price includes shipping & handling)
---
DVD & STREAM - only $39.99LIMITED OFFER! Receive the course on DVD, plus unlimited online access to this course. (Price includes shipping & handling)
---

iPad inspires creativity and hands-on learning with features you won't find in any other educational tool.